A 39-year-old man who won more than $1.2 million after flyingto Las Vegas and placing an$85,000 cash bet on Tiger Woods is apparently a massive asshole.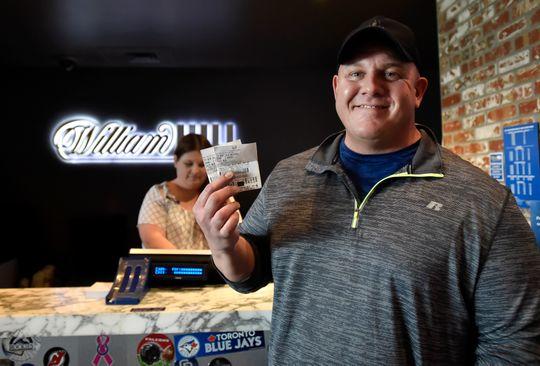 Self-employed day trader James Adducci - who has $25,000 in mortgage debt, student loans and car loans, wagered "everything I had that I could afford to lose" on the 14-1 bet,according to an interview withGolf Digest. "I just thought it was predestined for him [Tiger] to win."
Funded by the sale of some Amazon stock, Adducci took a backpack full of cash from a Las Vegas bank to the William Hill sportsbook in the SLS Las Vegas Hotel & Casino in a rideshare, sitting alongside a mother and daughter on the way in order to save $2. -NY Post
Adduci, however, has quite the past
According toUSA Today -which began to investigate Adducci after "interviews with various outlets differed," found court records showing a "long criminal past with multiple domestic violence convictions."
Adducci pleaded guilty in a La Crosse County (Wisconsin) court to misdemeanor domestic abuse charges four times: June 2009 (two counts), August 2014 and February 2016, according to records procured by USA TODAY Sports. He was arrested on suspicion of domestic violence in October 2013, March 2014 and May 2017, although thosecharges were dismissed outright or changed to lower-level misdemeanors by the prosecutor. -USA Today
"(The victim) stated James was going to strike her and had his hand back in a threatening posture," wrote a La Crosse police officer of a November 2015 incident that led to his 2016 conviction for disorderly conductwith a domestic abuse enhancementwhich brought the crime to misdemeanor status."She was able to open her car door before James was able to hit her and dive out of the car."
While the charge was eventually lowered to a non-criminal disorderly conduct, the same woman told police in 2017 that"James had shoved her placing both hands on her chest and pushing her backward."
Adducci has beenordered by judges to stay away from two different women at least three times each,according to court records.
As part of a bond hearing on a disorderly conduct arrest in September 2016, a judge ordered him to have no contact with Best Western Rothschild.

Alsoaccording to court records, Adducci has pleaded guilty tocharges 12 times including non-criminal disorderly conduct since 2006. He served 30 days in jail for his second OWI arrest in January 2015.He alsoservedone day each overbail jumping and disorderly conduct pleas in separate cases in 2014.-USA Today
"This has nothing to do with (winning the bet)," Adducci angrily toldUSA Today, adding "Check out the years of what you were talking about. OK."
USA Todayresponded that his last arrest was from May 2017, to which Adducci responded "And we are in 2019."
Adducci gave differing accounts toGolf DigestandUSA Today- telling the former that his "wife" told him "I cant stop you from doing this, because if he wins, Ill never forgive myself," - adding "She's a keeper. Adducci then toldUSA Today"Ive had the same girlfriend for a lot of years," adding "We have car loans and separate student loans."
When asked byUSA Todayabout his numerous arrests, Adducci said: "Everyone and their brother can go online and look up anything they want, and I dont give a (expletive)," adding "Obviously, I had $85,000 to place toward a bet. I have the ability to make $1.2 million. When was the last time you did that? If you want to get personal, who the hell are you to call me and think you have anything to ask me about anything?"